Andrew Kibe's Former Pastor Exposes What Led to Kibe Divorcing His Wife
*This story might be long, but trust me it is worth it to read to the very end. It's one of the big stories of the year.
Andrew Kibe has been known to be intensely regretful of his previous marriage. He claims that the church he used to belong to are the ones who forced him into wedding his former wife. Speaking on his YouTube Channel, in a video titled 'Is marriage a scam in 2021?' Kibe said:
"The pastor was my buddy and knew my secrets. I told him I wasn't ready and had no one in mind but he insisted. Another pastor in the church asked me to fast for three days and then he told me huyu ndio utammarry."
Clearly Kibe believes he was somehow coerced into the arrangement.
"I was weak. I couldn't make a decision. I should have said, 'no, I don't want to get married'. Just getting married because the church wanted me to. I should have stood my ground. I would not have messed up someone else's life and now there are kids in the picture."
Well, the pastors around Kibe at the time have a different recollection of the events that transpired. They have now turned to Facebook to defend themselves. Pastor Daniel Wabala said this of the fateful day:
"This man told me he had met a girl and wanted to follow the ideals of Christianity by getting married through a wedding….as his pastor I adviced him accordingly not forced him, either tuko got it wrong or the guy himself Choke!"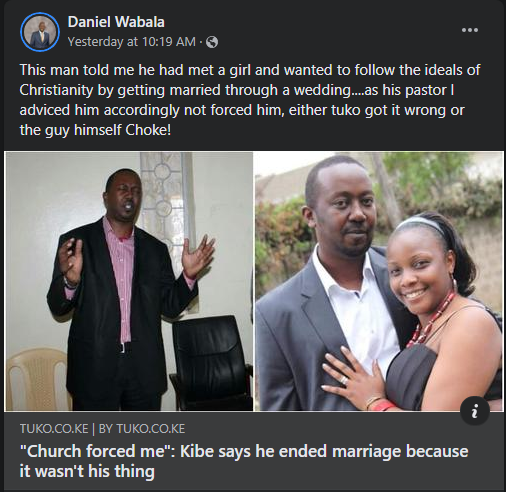 He dropped another bombshell, calling Kibe a "mama's boy" and blaming the mum's change of heart about the wife for the chaos:
"The man fell in love with Bernice and as a mamas boy took the girl to the mum for approval in Balozi, later the mum changed her mind about her. He came to me as his pastor and sought counsel. I adviced him to follow his heart and the will of God . He told me that against his family wishes he still wanted to proceed with the marriage . I encouraged him and not forced him. Later on the wedding day the family showed up on a Friday at Langata shopping mall where Faith Chapel and Flamekeepers premise was. I was to officiate the wedding. but as it would be during the service the family turned wild and chairs begun flying . I was left with no choice but implored one of my pastors to take them to the Flamekeepers office and continue with the ceremony…His choice to walk out of the marraige was his personal decision"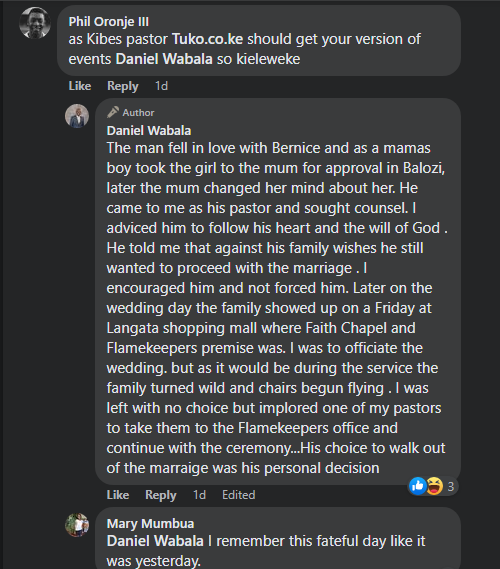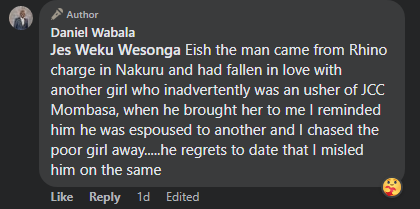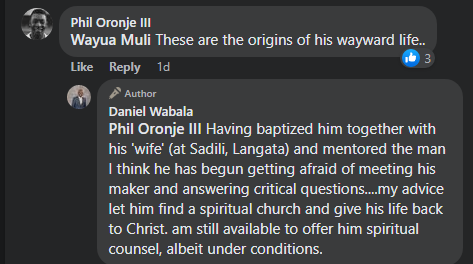 Tom Abungu, the pastor who actually officiated Kibe's wedding, had this to say:
I personally officiated the wedding of Kibe and his wife. I must say that Mr. Kibe, you are lying to yourself and listeners . I can share what happened at your wedding . As the bride was walking down the hill as they got infront before me, your mum came forth and nearly refused for you to get married to this lady. There was a stampede at the alter and your sisters also brought up a show. At one point one of your sister removed her high heels shoes and almost hit my head because I decided to proceed with the official work of doing the wedding vows because the reasons were baseless ! Kibe was very much mad in love that I personally asked them if they wanted to postpone the wedding to a later day and which they responded by saying no. The wedding went on at the office of pastor Wabala .