Huddah Monroe Speaks On Her Relationship With Juma Jux After Sharing Steamy Kisses
Kenyan socialite Huddah Monroe & Juma Jux have been lighting up the internet with their numerous PDAs which have shown how much affection they have for each other. It all started recently when Huddah showed up as Juma Jux's video vixen in his recent song monikered Simuachi; where they became all cosy and even shared kisses. And Jux was not tardy in showing off their explicit intimacy.
The two ignited dating rumours with this acts, and moreover, Huddah spent most of her time with Jux when she went to Tanzania to launch her cosmetic products. She went there for two agendas, one was for business, and the other was kutoa kutu. Yes, you hear me right, and she said it herself.
Read also; Huddah Monroe Suggests Intimacy With Juma Jux- 'Nakuja Unitoe Nyege' (Screenshot)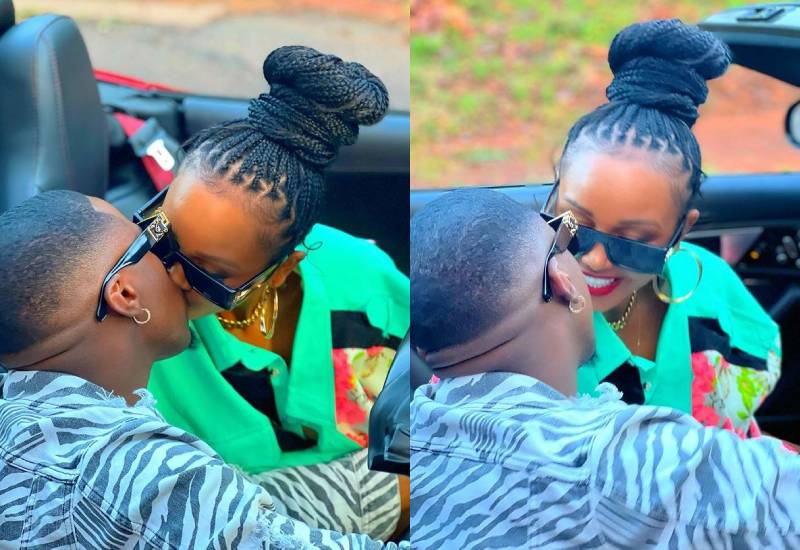 Huddah Addresses Relationship With Juma Jux
In their latest video posted on Saturday, Jux moved in for a kiss and Monroe gladly allowed it, later saying,"Friends kiss".
We all know how peculiar it is to just kiss anybody. But for Huddah, it seems easy peasy to do it with a friend. And this is what she has stated after their raunchy videos with Juma Jux. She admonished fans not to make a fuss out of their kisses, maintaining that they're 'just friends'.
"People kiss. Friends kiss, you can kiss your child on the cheeks. Just watch out, you can tell the energy," Huddah said.
Do you think Huddah is friend-zoning Juma Jux or she's just prevaricating her statement?