'I Met This Girl Who Showed Me The True Meaning Of Love'- Notiflow Gushes Over Her Girlfriend King Alami
LGBTQ members Notiflow and Alami can't have enough of each other. Despite being trolled a couple of times for being lovers of the same gender, their perennial affection for each other keeps them going. With the number of celebrities coming out as gay on the rise, so many other underdogs have also joined the movement and are no longer afraid to display their sexual orientation.
My True Love
Anyway, Notiflow has taken to her Instagram to narrate the hardships she has been undergoing in her previous relationships with men. She claims that most of them ended leaving her wounded & heartbroken.
"All my life I searched left right & center for that one true love. I've dated boyz with the hopes of loving & staying with them forever only to end in vain. I've been used, heartbroken & abused in my previous relationships. I was broken, wounded & hopeless. I didn't believe love existed anymore ????"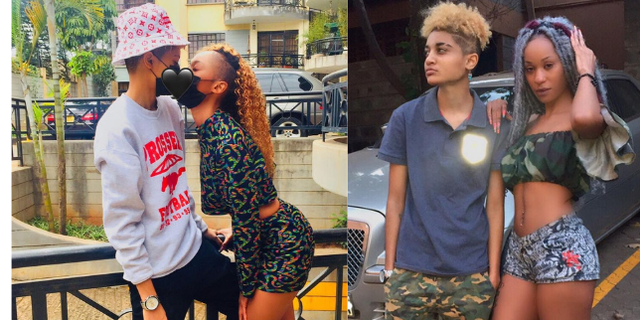 She however, added that she was able to love again after meeting King Alami;
"But then I met this girl ????????????????????❤️???????? She changed everything! She showed me the true meaning of true love, loyalty, friendship, perseverance & supporting one another in every situation…

???? @kingalami__01 My king , my best friend, when you're with me I'm ok, I'm strong , i can handle anything & everything. But when I'm not with you ( & especially when I can't reach you on phone ????) I feel unease. I feel this deep sickening feeling in the stomach, I worry about you more than a mother worries about their toddlers. I feel like I have to take care of you, keep you safe in my sight cz I can't imagine losing you. God forbid if anything happened to you I wouldn't be able to handle it. I'd definitely go insane.. ( & that's why I keep you in prayers whenever you step out ????????) because my life without you would be ruined. You brighten up my days, you love & understand me so deeply ( no one's been able to do that )
You go extra miles to make sure you make me happy & I'm not stressed. You respect me & love me.. Thank you for all the flowers you randomly get me ( that we run out of space to put em in the crib) Thank you for truly loving me & staying with me. I love you so fuckin much woman!"