Michelle Kamene Goro famously known as Kamene Goro is set to exit Kiss FM under Radio Africa Group after three years of hosting the station's breakfast show.
She has had the chance to host the show with Andrew Kibe, Jalang'o and Oga Obinna- who was Jalango's replacement after he decided to undertake politics.
Obinna and Kamene have hosted their breakfast show for months now; and to celebrate the good times they had together, Obinna penned a detailed emotional message to Kamene via her Instagram;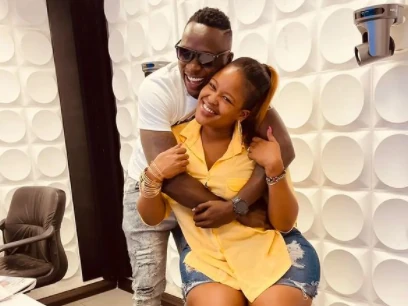 "Has it been 10 months already? Seems like last week.🥱😫.You welcomed me to @kiss100kenya & made my transition into morning Radio easy..accommodated my Noise,Drama,Scandals, taught me how to be a babyboy😜,polished my lingua but above all you WAS my shoulder to lean on when everything was going south. You WAS the only one I could confide in when most of the time the whole world seemed to be against me you were here each morning with warm hugs,smiles,encouragement and cute uncoordinated dances🙈..YOU KNEW MY TRUTH. You knew Steve was a different person from OBINNA.
Wheh!! Today is a hard show..
😭🥵😫😢 MY KAMENE💔…🥺 Goodbyes and heartbreaks are the HARDEST.
Enyewe nothing lasts forever.
Let's finish on a High… I wish you well and will always be a phone call away…mkiwachana na Afande Nipigie🤣🙈.
One LAST show. 2023 imeanza na mbio mbaya I swear…"
Kamene will be getting replaced by renowned radio presenter Sheila Kwamboka alias Kwambox .