'Tafuta Kazi'- Pritty Vishy Turns Down Secret Admirer Who Confessed Undying Love For Her (Video)
Flaunting placards in the streets has become a popular & effective way of addressing burning issues. And most people have employed the use of placards to fetch the attention of celebrities and other bigwigs of the country.
That being said, recently a guy monikered Edward Karanja took to the streets with his huge placard to announce his undying love for Stivo Simple Boy's ex-girlfriend Pritty Vishy. The fella took the bull by it's horns and went straight to the point stating that he's ready to marry the 19 year old.
Part of his placard read;
"I am tired waiting for you Pritty Vishy. I love you so much babe. Come and take my heart…"
Bear in mind that Pritty placed her dowry at Ksh 2 million. And this fella is willing to do anything to win Pritty's heart. Atawezana kweli?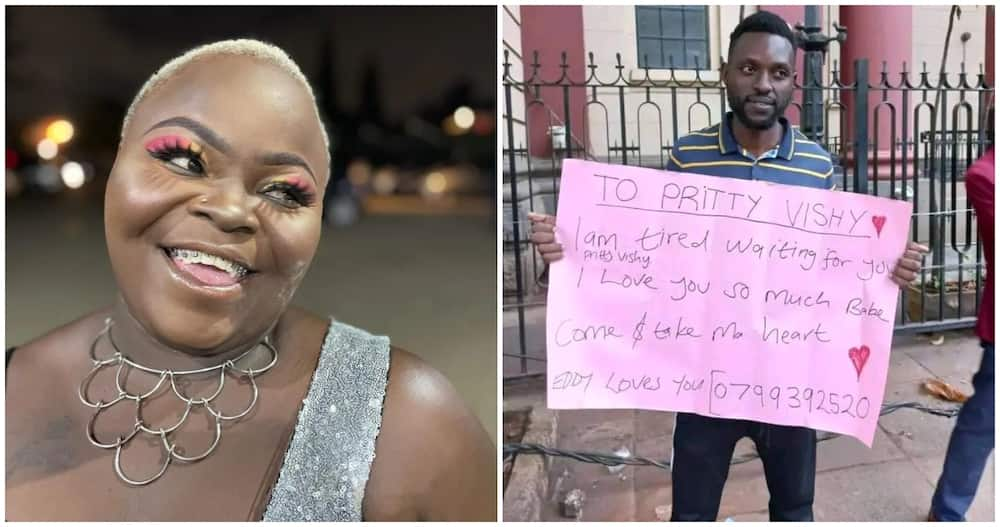 Pritty Responds
Even though it was love at first sight for the fella, Pritty has stated that she's in no way interested in the guy. She hurled insults at him, referred to him as some attention seeker, adding that he should get a job.
She shared the same in a recent interview with Nicholas Kioko;
"I don't like him. Achana na mambo mingi. Aende atafute kazi. Ulikuwa unafanya nini archives mchana mzima? It means you're a useless man. Hauna ata kazi…"
The dude was even willing to pay the Ksh 2 million dowry Pritty asked for. But this was her response;
"Wewe fanya ivi, hiyo pesa yako tumia vizuri. Enda ujengee mama yako…"
Watch Pritty Vishy's full interview below;