Citizen TV Unveils New Hosts For "10 Over 10"
Azeezah and Guda Man, the new hosts of "10 Over 10"
Citizen TV has officially unveiled the permanent hosts for the popular show "10 Over 10" following Willis Raburu's departure. The dynamic duo of Azeezah (Aziza Hashim) and Guda Man will take the reins of the show.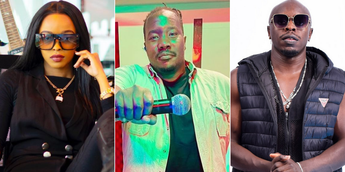 Raburu, who conceptualised the show during his time at Citizen TV, took to social media to share his thoughts on the new era of the show and expressed his approval of the new hosts.
"Fresh and amazing! Vaibuuuuuuuuuu! Congrats once again to the dynamic duo Azeezah and Guda Man; the only way to go is up! Shine on!" he wrote on Instagram.
Raburu also directed special messages to Azeezah and Guda Man, acknowledging their talents and wishing them success.
"Amazing!!!!! All the best, keep shining! Keep soaring! You got this!!" he posted to Azeezah.

"Brother man! You are a certified star! I'm so proud of you, my G! Keep soaring and shining!" he said to Guda Man.
Azeezah and Guda Man's first show together will be on Friday, October 6, 2023.
Kwambox, the guest presenter on "10 Over 10"
Kwambox, the Kiss 100 presenter, brought her lively personality and high energy to the recent episode of "10 Over 10". She made sure that the live audience, as well as those who tuned in on TV, had a great time.
The 'Captain of Good Vybez' had lots of fun lined up for her audience with many appreciating the energy she brought on board.
We wish Azeezah and Guda Man all the best in their new roles as hosts of "10 Over 10". We are excited to see what they bring to the show!