The paramount debate on #playke isn't a discussion that has started recently. As a matter of fact, the genesis of it began over 2 years ago, and one of it's biggest pioneers was rapper Khaligraph Jones. PlayKE was a moniker created to boost the Kenyan music industry, to have more content being played on our airwaves and put Kenya on the global map in terms of music.
The re-ignition of it is being manifested as comedian Eric Omondi tries to push for a 75% airplay of Kenyan music to boost the industry.
His demonstration to Parliament didn't turn out how he expected-neither did Starehe Member of Parliament Jaguar help him out to resolve his sentiments.
Jaguar Vs Eric Omondi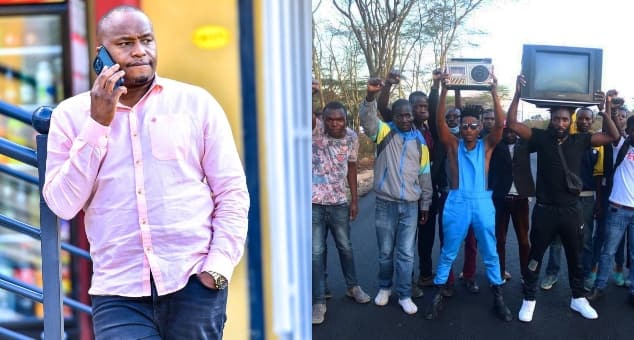 According to the 'kigeugeu' hitmaker, Eric Omondi is not using the right channel to make a change. He advocates for a peaceful meeting with renowned artists and the bodies involved.
However, Eric Omondi thinks this plan will only devour progress. He wrote to disagree with Jaguar;
"Mheshimiwa the ROUTE am taking is the ONLY one that will GIVE US RESULTS. Mheshimiwa hizo Meetings za Wasanii na sijui C.A, Sijui MSUK, sijui UHT, Sijui K.C.C, Sijui G.H.C , Sijui C.R.E will not give us any RESULTS. And as you say they have had those "MEETINGS" Year in Year Out and ENOUGH is JUST ENOUGH!!!

Those Artists you have MENTIONED are actually VERY MUCH OPPOSED to the IDEA of PLAYING MORE local Music. They Are AFRAID upcoming ARTISTS will REPLACE THEM🤦‍♂️🤦‍♂️🤦‍♂️🤦‍♂️.They are INSECURE, AFRAID, and have VERY LOW SELF ESTEEM. MHESHIMIWA You are OUR ONLY HOPE!!! YOU HAVE THE POWER!!! THE PLATFORM AND THE MANDATE to COMPEL the Relevant AUTHORITIES to IMPLEMENT!!! MHESH TUESDAY NAKULETEA OUR NEW DRAFTED BILL. NI WEWE TU TUNAAMINIA!!! @jaguarkenya"
At this point, the two should work in tandem with each other to resolve all this.