Comedian Akuku Danger is finally able to get up on his feet after several days in hospital. The funnyman was on an illness spree after his lungs collapsed over a week ago; and saw him get admitted at Nairobi Women's hospital Ongata Rongai for a few days.
A close friend of Akuku went public to disclose the saddening news when he was first admitted.
"Akuku Danger was admitted at Nairobi Women's Hospital-Rongai last week and discharged, and put on medication and now he has been readmitted. One of his lungs has already collapsed, and is currently in the I.C.U," he shared.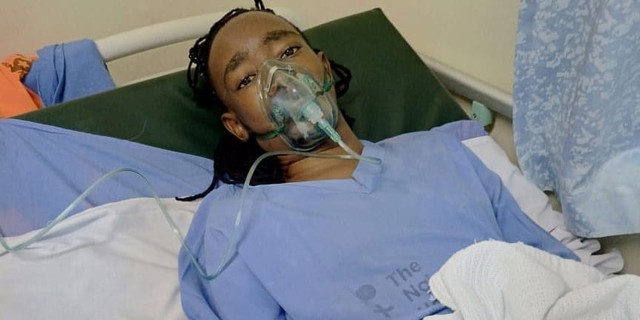 Read Also; Akuku Danger Showing Steady Recovery As He's Moved From HDU To General Ward
Akuku In Stable Condition
Tension was high as the jester was taken to the ICU. But his fans and other comedians showed solidarity in contributing towards the million plus accumulating bill. Sandra Dacha is always on the frontline to share the update of Akuku's progress and sharing the bill as it stands.
In a video she recently shared, Akuku is seen lying on the bed but in stable condition. He proceeds to thank his fans for supporting him throughout the illness that almost cost him his life.
"Thanks to everyone for the love, for the support, prayers. For those who have been contributing, and for those who are still contributing. From the bottom of my heart, I want to say thank you so much. We're almost there. Just keep praying for me. And I really appreciate you all. "
Watch the full video below;
Recommended Posts
February 1, 2023